WooCommerce payment method plugin for Banca Intesa (ASSECO SEE) "NestPay"
The plugin is developed for Banca Intesa "NestPay" in Adriatic region/South-Eastern Europe (Serbia, Croatia, BiH...) but it is compatible with "ASSECO NestPay" anywhere in the world (you
just
need to change gateway URL
).
If customization or changes are needed we are open for deals.
NOTE: If your bank gave you details for the system called "MerchantSafe Unipay" then you need this other plugin: MerchantSafe Unipay payment plugin
Configuration is easy, there are few important parameters:
- Merchant ID (assigned by the bank)
- API username (you generate it on bank merchant portal)
- API password (you generate it on bank merchant portal)
- Store key (you generate it on bank merchant portal)
Settings note: For BiH enable "CC input". For Croatia, Czech Republic, Italy, Montenegro, Serbia and Slovenia make sure "CC input" is disabled and that type of transaction is Pre-Authorization. It is recommended that you use username/pass of API account you can create from bank portal instead of master username/pass.
Plugin je kompatibilan i sa NestPay sistemom Komercijalne banke
Potrebna Vam je i usluga integracije plugina ili celokupna izrada web prodavnice?
Mozete kontaktirati nekog od nasih partnera!
Bit Media Digital Advertising

This email address is being protected from spambots. You need JavaScript enabled to view it.

Srbija

BLOO DESIGN

Miroslav Kerkez

+381.65.815.07.84

Srbija, Rumunija, Češka

SIK Computers

This email address is being protected from spambots. You need JavaScript enabled to view it.

+387 63 420 669

BiH, Hrvatska, Slovenija, Italija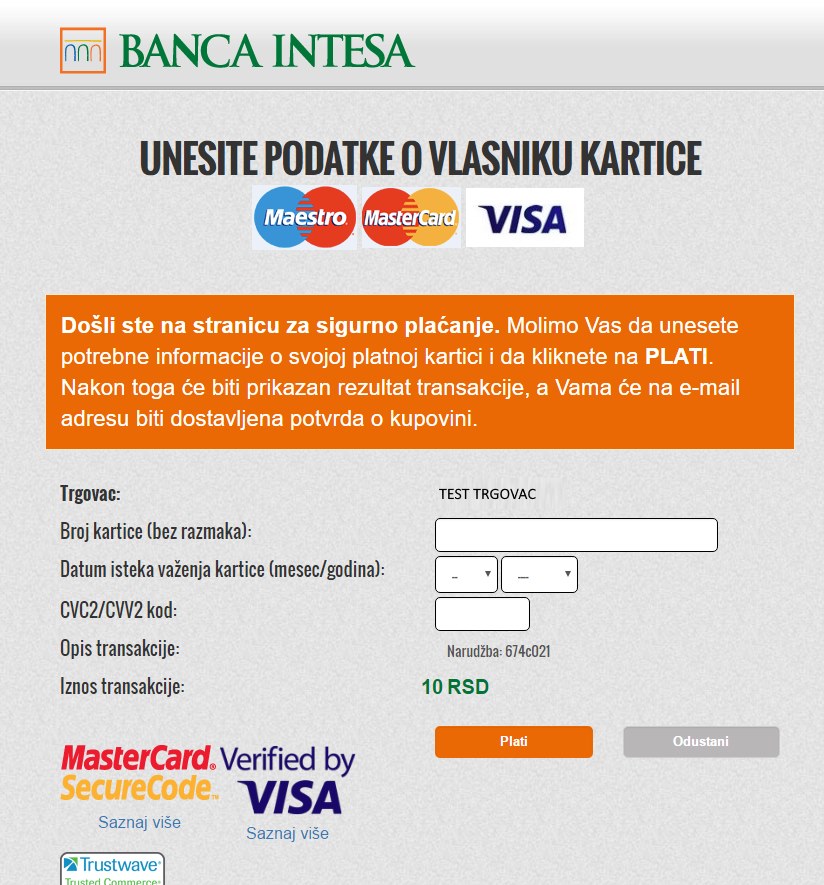 All regular payment parameters are also available