Virtuemart payment method plugin for ASSECO SEE "NestPay" 3D SECURE
Applies to all banks using the NestPay system: Banca Intesa, AIK banka, Unicredit bank, Erste bank, EuroBank EFG, Komercijalna banka, Sparkasse bank ...
Known compatible countries:

BiH, Croatia, Czech Republic, Italy, Montenegro, North Macedonia, Serbia and Slovenia
P
he plugin is developed for Banca Intesa "NestPay" in Adriatic region/South-Eastern Europe (Serbia, Croatia, BiH...). It is compatible with "ASSECO SEE NestPay" anywhere in the world (you
just
need to change gateway URL
).
Customization or changes on separate contracts are possible.
Configuration is easy, there are few important parameters:
- Merchant ID (assigned by the bank)
- Store key (you generate it on bank merchant portal)
- Transaction type
...
Ukoliko ste firma iz Srbije i želite da platite preko računa, molimo Vas, prosledite nam podatke firme radi kreiranja fakture.
Ukoliko ste iz Srbije, Hrvatske, Bosne i Hercegovine, Crne Gore ili Makedonije, ako ste osnovali firmu u prethodna 3 meseca i jedini ste osnivač možete zahtevati da Vam HOLEST ENGINEERING izda plugin besplatno za jednu godinu. Ukoliko je osnivač ženskog pola plugin se izdaje besplatno na 2 godine. Nepohodno je da na This email address is being protected from spambots. You need JavaScript enabled to view it. prosledite:
- sken/fotografiju rešenja o osnivanju (moraju biti vidljivi datum osnivanja i ime osnivača)
- Bilo sta sto dokazuje da bas ta firma trazi aktivacuju online-placanja kod banke - npr. sken/fotografiju ugovora (tj. tzv. pred-ugovor) sa bankom o online plaćanju (mora biti vidljivo da je ugovor sklopljen sa firmom iz prethodne stavke)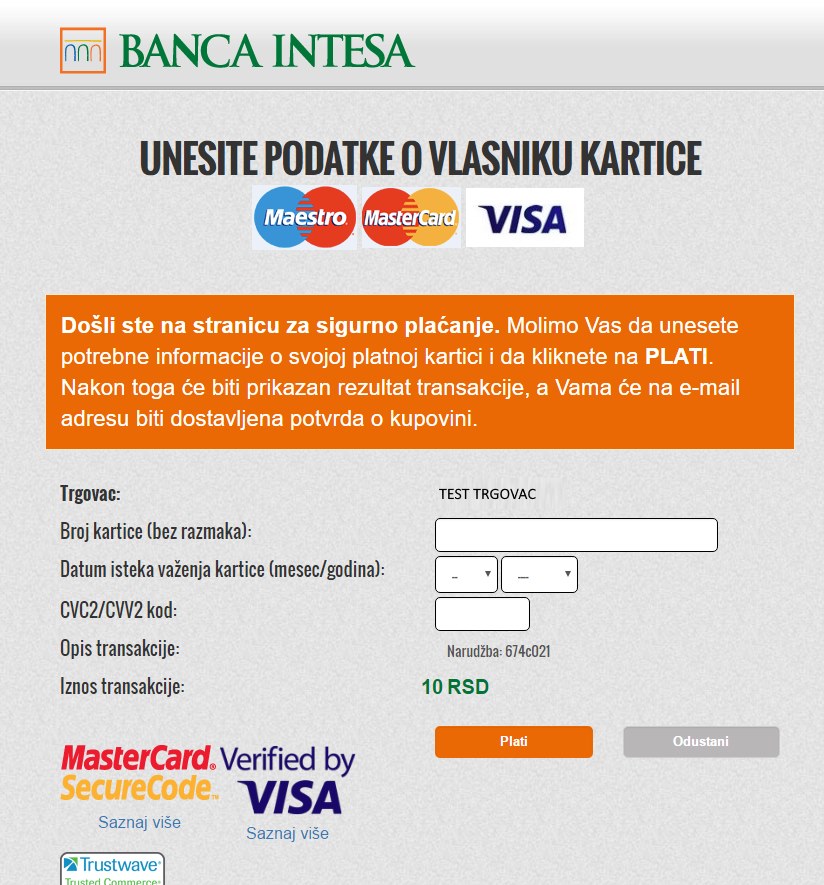 All regular payment parameters are also available